In several respects, commercial success in jazz has always been eyed with suspicion by critics. The artist is either unceremoniously expelled from the genre, or the sudden breakthrough is attributed to other non-musical related qualities: image, appearance, marketing. The undertone, however, is always, "good jazz, I beg your pardon, is not obliging, but refined and complicated, difficult to access and should not be for the masses." The stubborn and awkward self-appointed jazz police live by this mantra time and again.
Since the early 90's the career of pianist and singer Diana Krall, born in 1964 in Canadian British Columbia, has been on an upward swing. The blond jazz chanteuse modestly attributes this success also to a degree of luck. However, anyone who has experienced one of her various live shows in Europe, will have very quickly been taken by an immense radiance, and, above all, have been impressed by her enormous talent and musical versatility. Indeed, the elegant and sensitive combination of sincerity, intuition, and last but not least sensuality, are without comparison in hardly any other, current or past, music artiste. Her piano play is effortless yet virtuous, has incredible swing, hiding away in the background only to jump to the fore and draw on the drama of the listener's heartache. Whilst sensitivity towards the tone and volume of her instrument, lends towards an effective improvisation. Memories of the great Oscar Peterson and Thelonious Monk stir. Her performances are modest, complimenting rather than overshadowing the tenderness of the songs. A quality particularly portrayed on her 2001 platinum album "The Look Of Love".
With shaking credibility Krall's smoky yet flattering voice, like mixing "honey and whisky", translates songs into small studies of emotion, without overdosing on melodrama. There is an obvious urge to express feelings, while allowing the audience the chance to recognise themselves in the music. The fact that she succeeds can most probably be attributed to clever selection of her material. Krall revived the jazz standards of the American songbook and stamps her own mark on classics by the likes of Nat King Cole, Peggy Lee and Sinatra. She has been quoted as saying that she can only sing of things, which she herself can relate to, and admittedly her chosen metier has never especially been known for politically or socially critical topics. Thus most of her pieces interplay between the ecstasy and melancholy of love.
Having grown up listening to her father's collection of Fats Waller records, and being surrounded by a musically orientated family – which, every Sunday, used to gather and play at her grandmother's house – the foundation could not have been better. And so it was, at the age of four, that Diana Krall began classical piano training. As a teenager she played jazz in the school band and at 15, in her hometown of Nanaimo, she had already secured regular slots in two local restaurants (one being the now discontinued "NHL" sports bar). Sponsored at 17 by the Vancouver Jazz Festival she received the chance to study for 1½ years at the renowned Berklee College of Music in Boston. There, Krall describes, how she used to sit for hours in front of the record player replacing the needle again and again listening to Michael Breckers "Cityscape".
Back in British Columbia her talent inspired the legendary bassist Ray Brown so much, that he persuaded Diana to move to Los Angeles, where the music industry offered a much larger platform to young artists. There she studied with Jimmy Rowles, who finally led her to singing, and encouraged her to develop further in this direction, as well as continue her piano playing. In 1990 she moved to New York, and began a number of very successful appearances with her own trio in New York and Boston. It was during this period that she particularly worked on, and experimented with her singing style. 1993 saw Diana Krall's first album, aptly called "Stepping Out" (Justin Time Records), and two years later her second album "Only trust Your Heart" (GPR) was released featuring a successful co-operation with Ray Brown, Christian McBride, and Stanley Turrentine. In 1996, with "All For You" (GPR), an homage to the legendary Nat King Cole trio, she received her first Grammy nomination and found herself in the traditional US jazz charts for a fabulous 70 weeks. The subsequent year, the critically celebrated "Love Scenes" (GPR) was released, which, so far, has sold almost 1 Mio. copies and earned her a further Grammy nomination.
The first time the artiste worked with a full orchestra in the studio was in 1999 with "When I Look in Your Eyes" (GPR). Johnny Mandels sophisticated arrangements complement the selected pieces perfectly. Nobody will turn away from the fresh interpretation of all-time ear-candy "Let's Face The Music and Dance". And for the first time a accompanying, now obligatory, music video, was shot in a complementary fashion to the song. The album sold in numbers rarely seen in jazz circles and was nominated for several Grammies, including the "Best Album of the Year" category, which had not seen a single jazz entry in 25 years. It finally won the highly coveted "Best Jazz Artist of the Year" award.
With "The Look OF Love" (Verve, 2001) the success continued. The album – the fourth consecutive produced by jazz veteran Tommy LiPuma – swiftly achieved repeated platinum status. The collection, accessible yet sophisticated, elegant and elevated, mixes bossa nova with ballads, classical with sexy. Sinatraesque, Diana Krall saunters step by step through such grand pieces as "S'Wonderful" and "Besame Mucho", freshly interpreted by one of the greatest jazz arrangers Claus Ogerman. Her seemingly effortless piano playing diminishes in fervour to barely suggest an idea or mood, and, direct from this minimalism, the desired atmosphere is achieved and the kernel of the album is revealed: more emotion and less of the fancy wrapping, achieving exactly the quality of music which Diana Krall strives for and adores. As is often the case, a little can mean more. In the case of Diana Krall a whole lot more.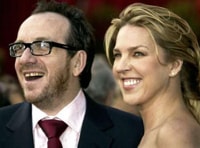 For almost forever Diana found herself on tour. With the release of "The Look Of Love" in September 2001, she embarked on a world tour, leading her through Europe, the US, Australia, Asia and back to Europe again. Her first Live album "Diana Krall – Live In Paris" (Verve, 2002) resulted from the tour and is ranked, with good reason, amongst the best Live performances in recent jazz history – breaking more records and bringing Diana her second Grammy® for Best Vocal Jazz album and a further JUNO® Award in 2003.
At 16 she used to dream of playing with the already undisputed jazz greats John Clayton (bass) and Jeff Hamilton (Drums). Nowadays both belong to her master troop. However, even now as an established jazz musician, she still occasionally looks towards her two mentors and thinks "OK, come on girl, you gotta be good today".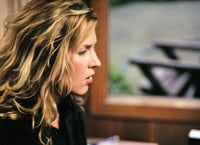 Since December 2003 Diana has been married to British musician and songwriter Elvis Costello – a pairing which has already born musical fruits on both sides: Elvis cannot deny that his most recent album, the jazzy "North", was strongly inspired by his relationship with Diana, and her musical radiance. In contrast, on her new album "The Girl In The Other Room" Diana has focused on her own composing and lyric writing, and together with her husband, created some fantastic songs. "The Girl In The Other Room" (release date: April 2004) is thus, so far, her most personal and most sensitive album. Not least, as it is completely devoid of strings accompaniment and thus contains even more of her own phenomenal piano playing.
Diana's ability, to not only fill the likes of the Berlin and Cologne Philharmonic Concert Halls, and the Royal Albert Hall in London within a short space of time, but also to recreate the intimacy of a jazz club during the concert, using voice, aura, cosy chit-chat, jokes and unpretentious atmosphere, as well as exuding an enthusiasm for music, makes Diana Krall, not only the largest and most popular, but also the most important jazz artiste of our present day. And she will even get better.